Make Buffalo United Charter School YOUR #1 SCHOOL CHOICE!
Current Parents:
You do not need to enroll through Enroll Buffalo. Simply fill out your Re-Enrollment Ticket through the school and your child will be all set!
Interested Parents:
Great news! We do have seats available!
To enroll in Buffalo United Charter School, you will need to do the following:
Click on the APPLY button below. You will be directed to the Enroll Buffalo Charters website.
Once on the site, you will be asked to create an account. Follow the instructions on the website to create your account and add your student to the account.
Once the account is created, apply for your student using the online application. Be sure to identify Buffalo United Charter School as your #1 choice, and apply.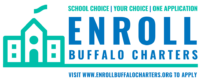 We look forward to your student joining us at Buffalo United Charter School!